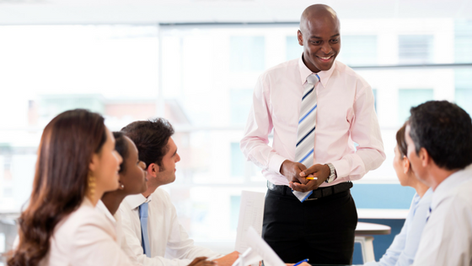 Throughout an employee's career, the organization can find great mutual benefit by providing training options. The employee achieves fulfillment in achieving goals and develops greater competence. The organizational result is a team of more valuable employees.
These training options include specific work-related items as well as more general education. You may find resources to meet many needs from one provider, such as AFC Management Services, or stitch together a plan with several suppliers.
On-the-job training takes many forms. Work-related skills assessment and training is part of a workforce development program with two goals. Any gaps in mandatory capabilities, such as writing and math skills, can be addressed with core training, sometimes administered by outside entities, such as local community colleges or skilled professionals, such as AFC Management.
Internal or external training in core competencies  in areas of dealing with people, dealing with business, and self-management can help individuals improve in their jobs or build eligibility for advancement. Executive development programs offer targeted skills enhancement for people rising to top leadership roles.
Employees may also pursue outside academic goals while they are working full-time or part-time. For some employees, getting a GED is a significant step toward reaching qualification for additional job opportunities. Employees in entry-level positions may get support from their organization to achieve this goal. Likewise, many companies offer tuition assistance for college courses or degree completion at a bachelor, master or even doctoral level. In many cases, tuition rebate to the employee is contingent on satisfactory completion of courses or programs.
Resources for family transitions
Whatever the family needs, providing an Employee Assistance Plan (EAP) in the workplace can be a good starting point. The EAP is generally set up as a point of contact for assessment, counseling, referrals, and follow-up services in personal and family, legal, financial, and other areas where employees may need support. Alternatively, companies can arrange individual services from skilled experts in specific areas of needs.
Contact Aerobodies to see how the mental health experts of our Occupational Health Staffing team can provide off-the-shelf support in these areas or create custom programs to meet your organization's specific needs. For training resources and a copy of our capabilities statement, visit AFC Management Services as we provide a range of services from basic skill development to top-tier management training.