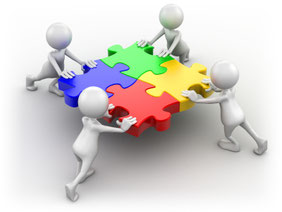 Can vendors really become trusted resource partners? In a strategic partnership, particularly when it's federal + Industry, both organizations can benefit greatly by collaborating on best business practices and solutions.
Here are 3 key steps AFC has found to be vital in becoming a true resource partner for other businesses and particularly the commercial and public agencies that we serve:
Step One: Know your objectives up front
What are the business goals or objectives you and your partner want to reach: a process innovation, change management, critical acquisition planning and the list goes on? Before deciding what type of partner you need, you must clearly define the primary goals for your organization and where possible quantify what you plan to achieve.
Step Two: Identify potential partners
After the objectives are clarified, it's now time to decide to select the resource partners that will best fit your objectives. Two common practice in the public space are RFI announcements and vendor roundtables. Both practices allow industry to share and expound upon best practice solutions that can become solid resources for the public agencies they serve.

Another example of partner selection may be a Fortune 500 company and a small innovative business. It's been long said that the best innovations come from the small business community. Large companies know this well and as a result have developed successful strategic partnerships with small businesses that provide nimble, creative resources for their slow behemoth-like business processes.

Don't be afraid to think big, and don't be afraid look outside your industry for mentors in unexpected places.
Step Three: Network-Network-Network
Great partners are everywhere but more often than not you must leave your office to meet them. Small business events, industry days (mentioned earlier) and conferences are terrific venues to not only meet these partners but start the initial discussion and relationship. Demonstrate your readiness and enthusiasm to partner by having a case study or two on hand to share. Sharing a memorable customer experience can go along way in showcasing how your company demonstrates its ability to be a valued resource partner and can make be a fast-track to new business, profits and revenue.
Being a resource partner or finding one can support your organization in reaching and even exceeding its performance goals. It can enhance your existing business processes and help your organization BE the benchmark others want to emulate.
So know your objectives, identify potential partners and get out there and find the partners to help your organization grow.
The benefits are ABUNDANT!
AFC serves as a resource partner to several large public agencies including:  NGA, Army, the Washington Post, Booz Allen Hamilton, GAO, FEMA, DHS, State Department and HHS. Can we help your organization with a business process, training or workforce innovation? Give us a call and see how we can help at 866-659-3400 ext. 7 or email Fran Bishop at franb@afmsco.com.