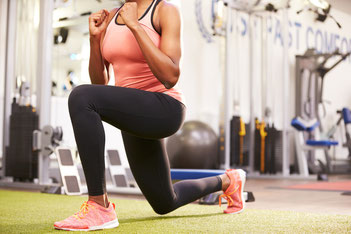 It's not hard to tell if you're running a successful employee wellness program. After all, high participation is usually a clear indicator you're offering wellness opportunities that resonate with your employees – at least right now.
But how can you guarantee continued participation in the future?
Which aspects of your programming are must-haves, and which elements (and costs) can be cut?
What are the core elements that need to be in place, in order to help employees achieve their fitness goals?

The answer to all these questions and more can be found through employee feedback and analysis.
For those savvy enough to ask, "Why aren't people participating?" a gap analysis can help you pinpoint the problem. From there, you can create workshops as a viable solution to help employees rethink their relationship to fitness, as well as their participation in your wellness program.
We recently created a 4-part workshop series for a government client who wanted to find out why employees weren't participating in their wellness program.
Each workshop we offered taught employees about the programming options available to them, how to use them, and how the programs could improve their lives.

Offering workshops alone is not enough. In order achieve program loyalty and increased participation long-term, you also have to get feedback on the workshops themselves, AND analyze your results.

For our most recent government client, employees who attended workshops gave positive feedback on the speakers we chose, as well as the topics we offered. After completing each of the 4 workshops, over 90% of the participants signed up for the company's Winter Fitness Challenge – a Key Performance Indicator that proved the workshops worked.

Feedback and analysis is important at the executive level as well. In our post-workshop analysis, we observed that our client requested an additional two workshops be added to the schedule because they were so thrilled with the results. Another client, who originally requested biannual workshops, upgraded to quarterly workshops after reporting similar results.

This told us two very important things:

First, employees were learning how to achieve their fitness goals and re-frame their views of wellness by participating in these workshops.

Second, their employers were meeting their goals for increased participation through the very same workshops.

Now, these are two examples of a decidedly non-fitness-oriented community of employees making a drastic 180-degree turn and embracing the seasonal fitness and wellness programming offered to them.

Had our results been less significant, we would have sought direct feedback from employees and management to find out how we could make the workshops more relevant to them. In the same way that we use a gap analysis to identify the reason behind low participation, we can use analysis to determine why employees seem influenced or unaffected by our workshops.

This simple process is a proven turnkey solution we've used time and time again to achieve spectacular results.

If you're ready to boost participation in your employee wellness program, analysis is your best friend in determining why people aren't participating, and what measures need to be implemented to get them away from their desks and into the gym.

We are now taking appointments. Don't waste another second on problem programming! Email us to schedule your complimentary gap analysis today: franb@afmsco.com