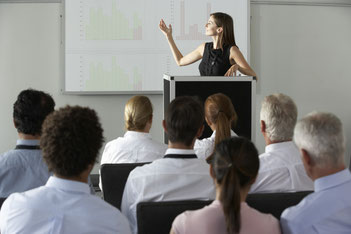 When your employees don't participate in your wellness program, you're not just frustrated; you're wasting precious resources on equipment, classes, instructors, and events that don't offer a strong ROI.
In our last blog post, we revealed how a gap analysis can help you pinpoint the problem and identify 'the why' behind low employee participation.
When you understand why employees aren't participating, you can develop a solution that addresses those objections. Then you can inspire them to get involved.
Countless Aerobodies clients have found success using our turnkey, customizable workshop solutions to address gaps in their wellness programming. Workshops function as tools that help employees better utilize existing programming.
Just as having a Fitbit is not enough to get fit, having an employee wellness program is not enough to guarantee participation. People need to know how to use the tool you've given them, and why that tool is important. Workshops serve this purpose by introducing your employees to various aspects of your wellness program, and helping them engage with those aspects in meaningful, personalized ways.
Recently we helped our client, a government agency that employs doctors and scientists, develop a 4-part workshop series to address the gaps we identified in their programming.
Employee participation was low because the doctors and scientists weren't being spoken to in their language, which was the language of research, proof, and scientific analysis. They didn't want to be sold on health and fitness; they wanted scientific proof that the programs being offered would indeed impact their health in a positive manner.
After identifying this gap, we developed a workshop series that featured industry experts and clinical research. Thanks to Aerobodies' pre-established network of experts, we were able to quickly draw upon our contacts and produce the workshops in just a few weeks.
Once the employees learned about the programming in a language they understood, participation significantly increased.
65% of employees were drawn to the workshops because they featured subject matter experts they respected, and because they were formatted in a scientific manner they understood. Once employees attended these workshops and better understood why and how to use the programs available to them, 93% of them signed up for an upcoming winter fitness challenge.
The workshop solution works for three important reasons:
1. Aerobodies workshops are turnkey solutions that can be implemented quickly and affordably. We offer workshop creation as an add-on service or as an a la carte service. Because we have a proven system in place to produce these workshops, and a network of subject matter experts on call, we can usually produce workshops in less than 30 days.
2. Workshops can be easily customized to solve your company's most pressing problems. Our management experts are trained to understand the drivers that get employees out of their seats and into your program. We know how to identify the gaps and create a strategic solution that's customized for your employees and their unique needs.
3. Workshops enhance the wellness programming you already have in place. There is no need to reinvent the wheel when you can use workshops to increase employee participation. Workshops are a tool that can be used to change the way your employees think about fitness, help them better understand how they can benefit from your program, and motivate them to reach their fitness goals through your program.
If you're looking for fast, effective solutions to enhance your employee wellness program, a gap analysis is a great place to start. We can help you pinpoint problems and develop swift solutions to dramatically increase participation and ROI.
We are now taking appointments for 2016, which will be here before you know it. Don't waste another second on problem programming! Email us to schedule your complimentary gap analysis today: franb@afmsco.com