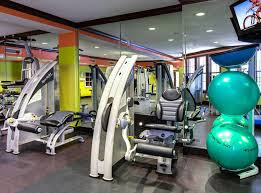 Back in the mid-1990s, fitness centers became the new standard in building design. Nearly every new building constructed had a gym or fitness center, and if it didn't, it slowly lost business to the surrounding buildings that did.
This trend quickly caught on in the corporate world as more and more employers began offering onsite fitness programming, including exercise spaces and equipment.
Flash forward to 2015, when merely having a fitness center as an available option simply won't do. Today, businesses are scrambling to create cutting-edge fitness centers designed with their employees in mind.
When combined with ergonomic office equipment and fitness program management, strategic facility design becomes a powerful way to attract top talent, keep employees healthy, and establish your business as a leader in the development of wellness-focused company cultures. 
Here are 3 proven ways to improve worksite wellness, encourage employee participation in your program, and make your fitness facility stand out from the competition:
1. Facility Design
The design and layout of your fitness center is crucial to its success. A tired old gym with aging equipment simply won't cut it in 2015!
Top companies are now designing their fitness centers to cater to employee needs and wants. The most popular choices we're seeing today include…
·         Rooftop yoga spaces
·         Lap pools with strategically placed windows to showcase sunrises and sunsets
·         LEED certification for environmental sustainability
·         Strategic layout of cutting-edge equipment
Instead of treating their fitness centers as separate entities, savvy business owners are working with the building and using its structure and layout to create unique fitness centers that encourage employee fitness and program participation.
2. Ergonomics Evaluations
Another important aspect of your fitness center and workplace wellness is ergonomics, of the efficiency of your employees' work spaces, work equipment, and work methods.
Ergonomics is more involved and complicated than simply purchasing ergonomic office chairs and computer monitors. Today's laws require employers to protect their employees from injury using ergonomic equipment and design, making purchasing and design decisions of utmost importance.
In order to make sure you're buying the right equipment and designing with efficiency in mind, it's important to conduct a thorough evaluation of your workspaces. Such an evaluation will prevent spending on equipment you don't need while identifying changes that will improve employee productivity.
3. Fitness Program Management
Once you have established the most advantageous design and layout of your fitness center and pinpointed ergonomic changes that need to be made, it's time to investigate management options for your overall fitness program.
Without proper management, many fitness programs languish and die. It takes oversight and integration to keep your employees active and engaged in using your fitness equipment and participating in your wellness programs.
In addition to an enticing fitness center design and ergonomic equipment, great fitness programming incorporates regular events, contests, challenges, and classes to keep employees invested in their own health and wellbeing.
Each area of wellness design – from the design of the actual building to the placement of office equipment – contributes to your employees' perception of your company, their utilization of program offerings, and your overall ROI. In order to maximize these areas, be sure to…
1. Invest in a strategic fitness center design that differentiates you from the competition, incorporates sustainable certifications like LEED, and offers exciting fitness options like rooftop yoga and lap pools.
2. Develop ergonomic solutions, both in terms of office equipment and design. Keep in mind that an ergonomics evaluation is the most cost-effective way to determine what you need (and what you don't) to improve office ergonomics.
3. Utilize expert fitness program management to ensure increased employee participation, reduced health insurance costs, and a better ROI for every area of your wellness program.
There are limitless options available for fitness center design and programming. Before you spend a dime on new equipment or a new design, make sure your money is being well spent. At Aerobodies-AFC, we provide a host of fitness center design solutions to help you find the most cost-effective way to positively impact employee wellness. Call (866) 659-3400 or email franb@afmsco.com to find out more.