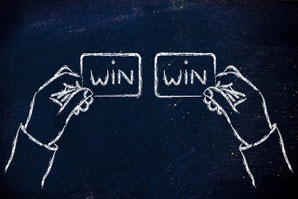 Forming long-lasting strategic partnerships with like-minded companies is one of the most effective ways to assure the stability of your business.

It's been said that good business is all about networking, and that's true both at the individual and the corporate level.

By joining forces with companies that have similar goals and target markets as yours, it's possible to drastically expand your reach, increase positive exposure, and position yourself as a sought-after industry expert.

In this two-part series on strategic partnerships, you will discover…

The definition of  a strategic partnership
The benefits of forming strategic partnerships
How to identify a great strategic partner
Real-world examples of mutually-beneficial strategic partnerships

Are you ready to partner up? Let's go!

What is a strategic partnership?

A strategic partnership is formed when organizations with similar goals join forces to meet and exceed those goals together.

Partnerships like this allow the goals of separate entities to align while providing benefits to both companies.

In many cases, strong strategic partnerships can be formed between companies, brands, and individuals that, on the surface, seem to have little in common.

But it's the sharing of common goals, not necessarily common business practices that makes these alignments so powerful.

Example: During their Back to School campaign last year, Staples partnered with pop star Katy Perry to get kids excited about the coming school year. Perry held a contest where she offered to perform at the school that created the best Roar music video, and ABC hopped on board to televise the whole thing.

Staples sells school supplies, Perry sells albums, and ABC sells advertising on its network. But all three strategic partners wanted face time with the lucrative 10-25 year-old age group, and this contest was a win-win-win for all three.

The Benefits of a Strategic Partnership

Strategic partnerships help you stay relevant to your customers, even when you're not selling to them.

When you form partnerships, especially around social causes, you end up constantly networking with vendors and clients at live and online events.

The more partnerships you have, the more involved you'll be with your particular target market without the need for hard-selling.

Then, when the customer is ready to buy, you'll be at the forefront of their mind.

In addition to staying top of mind and saving time hard-selling, strategic partnerships also help you increase business revenue. More and more opportunities will fall into your lap as companies come to you with their needs (instead of you chasing after them!).

How to Identify a Great Strategic Partner

It's clear that forming strong strategic partnerships is essential to your business's success.

So how do you find the perfect partners for your company?

Identify what you're looking to gain from the relationship. What specific outcome are you trying to achieve with this partnership?
Get clear on what you bring to the partnership and how you can benefit your partner.
Look at specific ways in which the partner can benefit you.
Make sure your company's mission, values, and end goals are in line with those of your partner.
Example: Aerobodies Fitness recently formed a strategic partnership with the Auto Alliance. Since children's safety is a big priority for them, we realized that our goals for creating happier, healthier kids were aligned with theirs.

The partnership allowed the Auto Alliance direct access to schools, kids, and parents – a demographic they were eager to target. It also gave us a powerful way to address kid's health and safety that we hadn't touched on before.

When forming beneficial strategic partnerships, don't be afraid to look to other industries that may seem unrelated to yours.  The most important thing to have in common is the dedication to a cause and end goal both parties are passionate about.

In Part 2 of this series, we'll identify ways in which strategic partnerships foster long-term business growth and see how companies like Aerobodies, MECKids, and Microsoft are using these types of partnerships to meet their business goals.