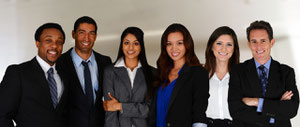 In the past decade or so, high employee turnover has become the norm in the American workforce.
Gone are the days of 20 or 30-year stints at the same company. Today, it's common to see resumes with short-term smatterings of work assignments as unhappy employees bounce from job to job: 18 months here, 2 years there….
The problem?
All of this turnover is costing U.S. companies some $11 billion every single year (Bloomberg). In fact, according to Bain & Company, the average U.S. business loses up to 50% of its workforce each year due to turnover.
But there is hope. When companies invest in ongoing career training for their employees, and empower them to become indispensable within the organization, they not only stay – they thrive.
A recent Gallup study recorded a 147% increase in per-employee earnings and a subsequent boost in company earnings simply by implementing these proven methods of engagement:
Strategy #1 – Communication Transparency
Empowering your employees to communicate with each other, with management, and with those they manage is crucial to increasing employee retention. Neglecting to do so openly and honestly may often shipwreck your long-term employee retention strategy.
Communication includes more than being able to verbalize and write in a way that's clear to others. It also includes the acquisition and cultivation of soft skills like the ability to empathize, effectively delegate tasks, and allow other team members to shine while stepping away from the spotlight.
Another key area of communication that's becoming more and more integral to employee retention is communication between Millennials and Baby Boomers.
These two groups have vastly different communication styles that utilize completely different technologies and ways of thinking. Helping Millennials and Baby Boomers find common ground is key to keeping them in your employ.
Strategy #2 – Invest in Emerging Leaders
Your company is only as strong as its leadership. Empowering your leaders with a highly developed sense of emotional intelligence is crucial to creating happy, engaged employees at every level of your business.
Leaders must learn self-awareness and self-regulation. They must be able to identify their weak spots and blind spots while focusing on their strengths. They must learn how to counsel and coach their team members, effectively delegate tasks based on individual strengths, and hone their interpersonal skills so that everyone on the team feels valued.
Strategy #3 – Empower Employees as Subject-matter Experts
Engaged employees are those who have been empowered to become experts in their particular fields. Providing opportunities for ongoing training, education, and promotions helps employees feel they are indispensable to the company.
At the same time, expert employees and managers directly contribute to increased company growth (not to mention revenue). Since expert employees feel empowered and appreciated by their company, they're much more likely to feel loyal to that company and to stay there longer.
There is no magic formula for retaining excellent employees. You simply have to focus on communication skills, empower strong leaders, and give every employee the ongoing training needed to become experts in their chosen field.
Do you need to decrease turnover and build a loyal workforce of dedicated, engaged employees? AFC has a large pool of subject matter experts who can help your organization grow in all levels of training and development. Call now (866.659.3400) to set up your FREE 30-minute briefing and find out how we can help your company meet its retention goals this year.