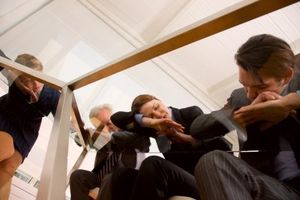 Are you having a difficult time getting employees to participate in your company's wellness program? For many HR directors, the time and money spent creating work-life balance programs seems wasted when employees miss workshops and fail to take advantage of the various programs and
opportunities you've taken the time to create. 
While it may seem next to impossible, there are proven, effective ways to activate your employees and inspire them to take part in your wellness program.
Here are 5 effective ways to increase employee involvement and transform your wellness program
from "most missed" to "must go!"
1. Identify Your "Target Market"

Not all employees are created equal. This is especially true when it comes to health and wellness. Millennials have different needs than the 40+ crowd. Employees with young families need
different programs than single people or those who have adult children.

Begin by identifying and categorizing your employees into different demographics. Is your company made up of mostly individuals in age range of 30-40? Are 50% recent college graduates and 50%
more than 50 years old? Take a look at the numbers before you…

2. Have a Conversation

The key to creating a successful, well-attended program lies in talking to your employees. Survey
them and ask them what they value most in a wellness program. 

Keep in mind that different demographics may want different programs and offerings. Millennials
might like a hip-hop class or weekend outings, while 40-somethings might crave lunch break yoga
classes.

You don't know until you ask. If you don't ask, you're likely to offer classes and activities that
nobody desires, which will result in low attendance. 

3. Set a Realistic Budget


Be realistic about what you can and can't offer, especially when it comes to things like offsite
memberships. If you can't get $50-$100/person from your boss, it's probably not worth it to offer an offsite membership. 

Use the budget you do have to create a program centered around your employees' specific wants and needs. It's always better to spend less but keep promises than to offer high-end memberships that never materialize or fall short of expectations. 

4. Analyze the Buyer Relationship

Improve the quality of your wellness program by analyzing your buyer relationships. Vendors,
organizations and businesses that contribute to your wellness program might offer incentives to
employees in the form of credit. See if that credit can be converted into cash and applied to
your program. Buyers will be flexible because they'll want to keep your business, and employees
will be enticed by the extras you can add using this technique. 

5. Consider Company Culture

Employees will hesitate to take part in a program that's not in line with company culture. A
publically owned company offering high-priced memberships to a swanky health club is likely to
undergo scrutiny, both from employees and the general public. The wellness program you create
should be directly in line with company values, and should enhance and complement those values. 

It's absolutely possible to activate your employees, increase attendance, and reignite your
employee wellness program. Be sure to identify company demographics, do research and determine
the different needs of the categories that you have determined. Set a realistic budget and stick
to it. Never make promises that you cannot keep, and create a wellness program based on your
company's unique culture. 
Are you ready to activate your employees and increase engagement in your company's wellness
program?
Join Fran Dean Bishop for a live, interactive workshop on how to create dynamic wellness
programs that improve your employees' work-life balance.  
Boost Employee Morale Workshop – Creating a Healthy, Conscious Workforce with Fran Dean Bishop
Monday, November 3, 2014
9:30 – 11:30 a.m. Knowledge Management Track:
Successful companies know that a healthy workforce can often lead to a fiscally fit balance sheet.
Yet, no two companies are alike. Join this highly interactive workshop and gain the critical
insights to create a highly engaging wellness program.  Discover the 3 key reasons why employees
don't participate in company-sponsored wellness programs and how to ensure they will. Learn the
difference between a work-life balance culture and a wellness culture and why both are essential to
increasing employee participation and productivity. Also find out why a company wellness
program doesn't have to cost a fortune to be a success and WHY you should launch one with little
or no budget. Each participant will leave with an interactive wellness engagement toolkit with tips,
tools and resources that can be implemented immediately for companies of any size.
Human Resource Conference for Legal Professionals 
Do you want to build a strong wellness program for your organization? If the answer is yes, please
contact Fran at Franb@afmsco.com or call 866.659.3400 for more information.
Image courtesy of Ambro / FreeDigitalPhotos.net