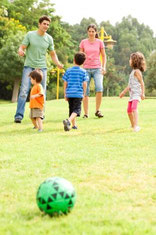 Summer weather gives us all the opportunity to get outdoors more and focus on our health and wellbeing. It's a special time when you and your family can share adventures. Family adventures can encompass an extended vacation to a destination you've longed to see or they can be as simple as a healthful, backyard picnic or a day at the swimming pool. 
Whatever you choose to do over the summer, it's a great time for you and your family to get in touch with your health. A summer health tune-up may be just what you need to jumpstart new habits that you can continue throughout the fall and winter. 
Three areas to think about for your family's wellness are:
•Nutritional diet
•Health check-ups
•Fun exercise
Nutritional Diet
Eating healthy isn't difficult if you and your family keep these five major tips in mind. 
(1) To maintain a healthy weight, it's simply calories in and calories out. If you eat more
calories than you burn up, you're going to gain weight. If you reduce the number of calories
you're eating and pump up your exercise regimen, you will lose weight if you do so consistently. 
(2) Fresh vegetables and fruits are abundant during the summer season. As Dr. Oz recommends, keep lots of color in your diet. When it's warm, your body craves lighter foods, so take advantage of the available fresh produce and keep your diet light. Instead of those high-calorie sausages or hot dogs, grill some skinless chicken or fish. Vegetables, such as zucchini and corn on the cob, are great on the grill too. Light pasta dishes are refreshing on sultry days.
(3) Reduce the number of sugars and processed foods in your diet. Stay away from fructose and glucose. There's always a temptation to chug down sodas during this warm season, but try fruit-infused water instead. If you experiment, you can make a pot of hot tea and refrigerate it to make a delicious iced tea. You might be surprised to find that it won't need much sugar to make it palatable. Whatever you do, stay hydrated.
(4) Eat less red meat. You might like the taste of steak or hamburger on the grill, but try
substituting flavorful salmon or marinated chicken instead. Chicken sausages come in a variety of flavors, are scrumptious when grilled, and are healthier than their pork counterparts.
(5) When you set up your plate's portions, the fruits and veggies should be the largest portion, the proteins should be next, and the carbs should be the smallest amount on your plate. 
Health Check-Ups
Has everyone in your family had their annual doctor and dental check-ups? Now might be a good time for you to go through the checklist of everyone's health and see if anything needs special attention. Don't forget to put a spotlight on your own health as well. Every decade has its health challenges. What might have been acceptable in your 20s and 30s might not be acceptable as you approach 40. Ask your doctor what he or she recommends. You might want to add strength training to your regular exercise regimen.
Fun Exercise
The most important thing with exercise is to find your "passion of movement." If you're passionate about a particular type of exercise or sport, you will do it with joy and you will do it more often. You and your family need to find what you identify with and what resonates with you. 
Perhaps you love jogging together or swimming. Does pilates, working out on a rowing machine, or a Zumba class sound like fun? Gyms aren't as busy during the summer months so if you prefer to exercise in air-conditioned comfort, drop in on a class. There are lots of coupons for free activities, especially in August. It doesn't really matter what you do as long as you do it and get active!
Do you need a plan for your family's diet, holistic health, or exercise this summer? If the answer is yes, please contact Fran at Franb@afmsco.com or call 866.659.3400 for more information.
Image courtesy of photostock / FreeDigitalPhotos.net