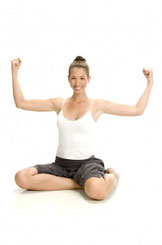 There's something about the summertime that makes us want to slow down and pay more attention to our families and ourselves. 
Many people plan vacations during the summer, but what should you do if you can't take too much time away from work? It's surprising how just a little focus on your own health and wellness can make a huge difference to your daily stamina and attitude. 
Your life, both personal and professional, is made up of obligations to other people. No matter how much you want to give to others, now may be the time to put a spotlight on your own health and give yourself a mental and physical tune-up. You'll come back to your daily work and family duties with a renewed sense of energy and joie de vivre.
Three simple activities that will make you feel that you've experienced a "power vacation" are:
•Focusing on your holistic wellbeing
•Enjoying herbal treatments
•Taking a class
Holistic Wellbeing
Take stock of yourself from your head to your toes. Does your back or neck hurt? Are your joints stiff? When was the last time you had a manicure or pedicure? 
Most of us are working so much that we neglect the luxury of a soothing massage or facial. These affordable treatments will make you feel relaxed and comfortable in your own skin.
If you travel frequently, try buying some lavender oil and put a touch on your wrists, armpits, or under your ears. The comforting scent will help you sleep on the plane and get you to your destination feeling refreshed.
Another way to treat yourself is with a stretching or Pilates class. This type of movement will help you to eliminate stress and relax both your body and your mind.
Herbal Treatments
Visit your local health food store or farmer's market to get familiar with essential oils. Be
open to investigating the different available oils and try something new. 
By asking the local practitioners questions, you can find out which oils are best for helping you sleep, stay hydrated, think better, calm your anxiety, or eliminate migraines. If you haven't learned about aromatherapy you are missing a wonderful way to heal yourself mentally and physically by using the scents of natural oils.
Two very popular essential oil brands to check out are Nature Sunshine and Young Living. There are lots of varieties of oils - Lemon, Lavender, Bergamot, Tangerine and Patrouli. These are just a few of the most popular ones and they all have special properties. 
Taking a Class
Sometimes the tune-up you need is not just physical it is mental. If you've been feeling blah
or uncreative, a class could be just the thing to get your creative juices flowing. Creativity rules the world and you'll discover new horizons for yourself by taking a class that fascinates you. In order to open up those creative channels, you'll need to step outside your normal comfort zone.
To change the world in large ways and small, you need to be willing to do something that's
completely unrelated to what you do every day. That's where creativity happens! 
In Carmine Gallo's bio about Steve Jobs, he tells the story of how Jobs got interested in
calligraphy when he dropped out of college. That passion became the inspiration for the intuitive design of Apple's products. 
Look on Groupon and Living Social for ideas on classes that may spark your hidden passion or talents. Think about a dance class, a drum ensemble, or a painting class. Maybe wine making, glass blowing, or sculpting pottery is more your style. 
Being willing to do something new will give you a different lens for all aspects of your life. A
class opens the door to new thoughts and feelings that carry over to other areas of your life and best of all, it's a lot of fun!
By taking a few simple steps you can give yourself a wellspring of vitality this summer and come back to your day-to-day life with a renewed purpose.
Do you need a plan for holistic wellbeing, herbal treatments, or creative classes this summer? If the answer is yes, please contact Fran at Franb@afmsco.com or call 866.659.3400 for more information
Image courtesy of imagerymajestic / FreeDigitalPhotos.net