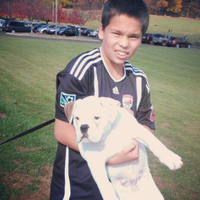 As businesses grow, they go through stages of evolution. Aerobodies, launched in 1992, has become known for unique and innovative wellness programs for both homes and offices. As Aerobodies grew more successful, another business evolved from it--AFC Management Services. Launched in 1997, AFC Management became a premier health technology solutions provider. 
Since these two companies have become well established, it became time to give back and to build something new that would have a significant impact. The organization that grew out of AFC's desire to make a difference and contribute to an important social cause was MECKids.
The inspiration came through a phone call made by a 16-year-old girl named Lisa Perez. She was very overweight and when she saw a fitness program advertised in the paper for $499 she called to find out about it. She had mistakenly thought this AFC corporate program was priced for under $5.00.
Fran Bishop, the founder of Aerobodies and AFC Management, realized the courage it took for Lisa to make that call and it touched her. After doing some initial research, she discovered that there were no health and fitness programs available that put kids in charge of their own health. She felt certain that kids could support each other and learn from each other if the program created a safe environment for them to do so. MECKids, the M stands for Motivating, the E for Educating, and the C for Connecting, was launched in 2009, has been going strong ever since, and is now developing a brand presence all its own.
Why is MECKids Better?
MECKids is a social platform that provides a way for kids to track their fitness and health goals. Signup is a quick and easy process. Once kids are part of the community they track their food intake and physical activities every day. The progress they're making on their fitness goals is provided with easy-to-understand visual aids. The daily snapshot on their private dashboard shows if they've eaten more calories than they've burned.
Because it's so easy and fun for kids to use, MECKids encourages them to form new and better habits. The platform provides a safe, COPPA-compliant environment for children to share their health and fitness stories. They can learn from the successes of their peers. Teachers reap benefits from MECKids too. By using the MECKids.com platform, teachers can track students' physical education, sports, and health programs. Health-centered curriculum, cross-curriculum, and cultural lesson planning are additional teacher benefits.
What Programs Does MECKids Offer?
MECKids offers some exciting programs that expand the roles kids can play in their own health and the health of other students. One of the innovative programs offered is called "Blog Ambassadors." Budding student journalists are given the opportunity to offer the community "real news in real time." Sports, nutrition, local community events, and inspirational celebrities are all topics that have been tackled with zest by the contributing student writers on MECKids. There's nothing more powerful to a child, preteen, or teen than reading something that's written by one of their peers. These articles touch kids' minds and hearts and provide them with the motivation for changing their lives for the better. 
Who Do You Know Who Needs MECKids?
Let's help our kids get the exercise they need and the health education they deserve. Do you know teachers, parents, and schools who want to help kids get healthy? If the answer is yes, please contact Fran at Franb@afmsco.com or call 866.659.3400 for more information.