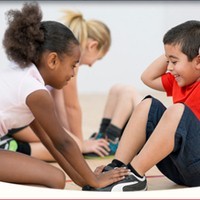 It's no secret that children are not getting enough regular exercise. In 2012, the Center for Disease Control reported that 1/3 of all children and teenagers in the United States are overweight. Even children and teens that are not overweight have a deficiency of much needed physical activity. In addition to the physical problems associated with the lack of proper diet and exercise, kids don't have enough knowledge about nutrition. Most kids don't know how to read the nutritional labels on packaged foods. Health education is important, but in order for kids to become empowered to manage and moderate their own diet and fitness behaviors, we need to get them engaged first. 
What's Different About MECKids?
Unlike other online health programs where adults are in charge, the MECKids platform is designed with kids in mind. Within a classroom setting, a teacher only needs 5 minutes to help kids register on the site. The signup is quick and easy and the platform is a secure COPPA-compliant environment. 
After the initial set-up, kids are in the driver's seat. Teachers can assign the daily tasks as part of the students' "homework." Using standard lists of food and activities, students manage their own electronic health journals. If a particular food or activity isn't listed, they can still fill it in. Every day when they check in, there's a message that shows if they have eaten more calories than what has been burned off or not. Their private dashboard shows their progress over time with easy-to-understand visual aids.
The kids within the social community of MECKids participate in supporting each other. The system has safeguards against cyber bullying, so that the participants feel safe expressing their concerns, struggles, and successes. These children who are on the road to better health are motivated by the success stories of their peers who have become more fit.
Getting Kids Excited About Fitness
Today, children live in the age of gaming and it's difficult to keep their attention for very long. To motivate them to stick with their diet and exercise plans, MECKids offers gamification incentives. As kids progress and are consistent in moderating and transforming their habits, they receive incentives in the form of gift certificates, online certificates of merit, badges, and gifts. There are also incentives for teachers so they receive recognition and awards for inspiring their students.
The unique blogging opportunity that MECKids offers to students gives them a chance to express their writing talents. Kids are encouraged to participate in writing about sports, nutrition, local community events, inspirational celebrities, and world events, such as the Olympics. These budding journalists inspire their peers to persevere in their health and fitness goals. 
MECKids (MEC stands for Motivating, Educating and Connecting), works together with corporate sponsors to host events with live music and entertainment. It's good, clean fun that inspires kids and adults to get moving! 
Who Do You Know Who Needs MECKids?
Do you know kids who can benefit from the innovative kid-centric fitness platform offered by MECKids.com? Do you know teachers, parents, and schools who want to help kids get healthy? If the answer is yes, please contact Michelle Tafazoli, Program Manager, here or call 866.659.3400 for more information.