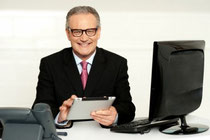 The post-World War II baby boom yielded over 76 million babies born between 1943 and 1960. Baby Boomers are getting ready for retirement but many of them don't plan to leave the workforce anytime soon. Over 40% of the employees in the US are Boomers and they fill most of the middle- and upper-management positions. A few things that are important to Boomers are compensation that reflects their experience and quality healthcare.
When Boomers came of age it was a time of prosperity in the US. These babies were the focus of their families and became used to the attention. That self-indulgence translated into a generation that wants to make an impact. Boomers love to win and to be in charge.
Throughout their long careers, Boomers have reinvented themselves as they moved from company to company. This generation pioneered the idea that switching companies or even careers might be a necessity to get ahead in life. Their parents were loyal "company employees" who possibly worked for one company their entire career.
Matching Incentives to the Needs of Boomers
In general, Boomers are far more traveled than their parents and they crave adventure and new experiences. Many are also lifelong learners who enjoy exploring everything from cooking gourmet cuisine to tackling new technology to financial planning. Some Boomers are not as quick to learn new software or processes related to technology, but when offered continuing education to strengthen their skills or comfort level they're frequently the first in line.
The self-indulgence in Boomers means they love to be pampered. An evening of entertainment, dancing, and dining to share with a guest would be a highly coveted incentive for exceeding sales quota. Discounts for luxury merchandise are welcome too.
Companies with flextime policies rank highly among Boomers. Whether it's two days or two weeks, free time to enjoy with family and friends, to pursue volunteer work, to attend a conference that's of personal or professional interest, or to enjoy a hobby are wonderful perks for those Boomers who have met their goals.  
In summary, experiences and adventures, educational opportunities, entertainment and
pampering, and extra free time as great perks for Boomers.
Why Customize Incentives?
All three generations of employees, Generation Y, Generation X, and Baby Boomers have different needs they hope to receive from their workplace. Your company's talent is your greatest asset. If you don't customize your incentives to meet their needs you run the risk of having poor morale and high turnover. The incentives you offer should take into account the needs and desires of each generation and be appropriate for your industry as well.
Need help or inspiration to launch your incentives programs? AFC Management has created an inspiring incentive program that will give your employees the motivation to stay with your company. For your FREE 15-minute consultation on setting up incentive programs that are customized with your employees' needs in mind, email Fran at Franb@afmsco.com  or call 866.659.3400.