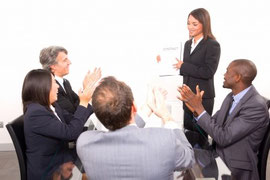 Generation X, the employees who were born between 1960 and 1980, has kids to support and a mortgage to pay. The economic downturn of 2008 has had a powerful impact on this group. Gen X-ers want security and stability coupled with flexibility. 
They're willing to invest in their own careers and credentials and they value companies who can help them achieve their goals. In general, Gen X-ers are eager to take on more responsibility at work. If their company of choice helps support their professional development with continuing education programs and tech training, the rewards are great for both employees and employer.  
It's important for Gen X-ers to have a solid relationship with the C-Suite. They want to
understand where they fit within the company's hierarchy and have a sense of belonging. The level of visibility and accountability they have within an organization is critical to them. They want to be seen by their colleagues as emerging leaders with credibility and authority.
Many Gen X-ers were "latch-key" kids growing up in the 1970s when levels of divorce were at an all-time high. They became independent and made their own decisions at an early age. These circumstances have shaped how they view the process of working with others. Being involved in their company's decision-making process is important to Generation X. They want to be change agents and have an impact on how problems are solved.
Matching Incentives to Gen X-ers Needs
To appeal to their need for flexibility, offer Generation X employees changeable work schedules, a liberal work-from-home policy, or extra vacation days. Provide them with conveniences that save them time and energy such as on-site fitness facilities, day care, ATM machines, or dry cleaning. Gen X employees are juggling work, home,and an increasing need for professional development so whatever you can do to make their load easier will be helpful.
To appeal to their need for recognition and authority, provide Gen X-ers ample opportunity for communication with the C-Suite. Offer them projects where they are given the latitude to find the resources they want, receive an open budget for what they want to do, and are given the authority and decision-making power to carry it through. 
To appeal to their need for security and stability, provide them with the professional
development they need and want to build their skills and abilities. Programs for continuing
education and educational reimbursement are popular with these employees who see themselves as the only true security they have. Matching 401K plans and financial planning assistance are excellent incentives as well. Corporate retreats where they have access to management and offsite training are viewed as special perks. They want the company to support these opportunities for them to participate and increase their chances for advancement.
Why Customize Incentives?
If you don't make the proper investments in all three generations of employees, Gen Y, Gen X, and Boomers, you run the risk of having high turnover and poor morale. The incentives you offer need to be customized to fit the needs and desires of each generation of employees. There may be varying needs based on your particular industry as well. 
Need help or inspiration to launch your incentives programs? AFC Management has created an inspiring incentive program that will give your employees the motivation to stay with your company. For your FREE 15-minute consultation on setting up incentive programs that are customized with your employees' needs in mind, email Fran at Franb@afmsco.com or call 866.659.3400.