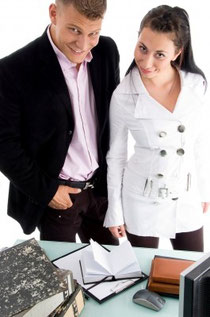 Gen Y, the generation born between 1980 and 2000, started to enter the corporate world in the early 2000s. Known as a demanding generation of workers, Gen Y-ers are creative, innovative, tech-dependent, and usually tech-savvy. 
As older workers retire and the labor force shrinks, it is imperative that companies find a way to use models for onboarding and incentivizing that appeals to Gen Y employees. 
Employers who have hired Gen Y-ers have been seeing this young, up-and-coming talent change jobs quickly and frequently without any warning. This generation sees work and success in a completely new way than previous generations. Compensation is only one piece of the puzzle for Gen Y-ers. If they're not engaged or recognized at a different level, they quickly lose interest. 
Many Gen Y-ers were raised to attain high-expectations from their parents and coaches. This type of interaction often established three important needs: the need for feedback, the need for clear direction, and the need for ongoing recognition. 
In addition, many Gen Y-ers were encouraged to work on projects in teams. Just as they may have used a team approach in sports, they did likewise for academic projects and learned how to solve problems and fuel creativity in a collective way. This created a need for the connectivity that comes from a community, a virtual network of friends, and social activities like community service. 
Gen Y workers grew up surrounded by computers, cell phones, and social networks. They want information faster and they want to complete things quickly so they can achieve their goals and be rewarded. 
To get the best from your Gen Y employees you need to support their efforts. Provide them with guidance and coaching to help them realize their potential and fine-tune their skills. They want to learn and accomplish a lot in a short period of time. Provide them with the company's overall vision as well as specific project goals and allow them to work collectively instead of giving them step-by-step project plans. 
Most Gen Y-ers would love to work for a company that offers free food, open office environments, toys to play with, and fast-track promotion opportunities. Even if your company doesn't have the resources to implement such benefits, if you get creative you can offer incentives that are exciting for Gen Y employees.
There are three types of incentives that are highly effective for engaging Gen Y employees.
1.Social Recognition by Peers as well as by Managers
2.Customized Rewards--Personalized for Specific Employees
3.Reward-Based Gamification Platforms 
In the first category are companywide platforms that allow a manager to provide recognition to a particular employee and for that recognition to be echoed by a larger pool of team members. 
Personalized rewards don't have to be expensive to be effective. Gift certificates, days off,
work-from-home opportunities, and decision-making opportunities can all be customized for a particular employee's needs. Travel opportunities or 'wear-the-project-hat for a day' can be exciting and empowering for Gen Y-ers.
Gen Y-ers have grown up with the reward systems in games and some companies are investigating gamification techniques to see how companywide incentive programs can be organized around these types of badges and leaderboards.
Companies that have positive community cultures and allow employees to come together to find creative solutions to problems will win the loyalty of Gen Y-ers. 
Why Offer Customized Incentives by Generation?
If you don't make the proper investments in all three groups of employees, Gen Y, Gen X, and Boomers, you run the risk of having high turnover and poor morale. The incentives you offer need to be customized to fit the needs and desires of each generation group. There may be varying needs based on your particular industry as well. 
Need help or inspiration to launch your incentive programs? AFC Management has created an inspiring incentive program that will give your employees the motivation to stay with your company. For your FREE 15-minute consultation on setting up incentive programs that are customized for your employees, email Fran at Franb@afmsco.com or call 866.659.3400.

Image courtesy of imagerymajestic / FreeDigitalPhotos.net