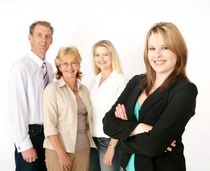 Before you can achieve your company goals, it's essential for you to develop solid, tight teams of people who work well together. 
You need to give your team members the appropriate training, resources, and a secure feeling of empowerment for them to thrive and be their best. 
However, in many ways it's more difficult than ever to provide these resources to your employees. It is not unusual for companies to have workers from at least three and possibly as many as four generations working together. 
Each of these generations has different attitudes toward technology, corporate life, and the perks that would keep them happy and engaged at your company.
If you want the exceptional talent in your company to stay and, even more importantly, stay engaged in their jobs, you'll need to invest in them. 
It's important to remember that generations are not a box or a label you should put on your
employees. Instead it is more valuable view these generational differences and similarities as a place to obtain powerful clues as to what motivates these different age ranges. Such insight will help you craft incentive programs that are customized for each generation. 
If you offer the right perks, the ones that employees value, you'll make your company "sticky" to the talent in that group.
Workplace Incentives are Different by Generation
The youngest of yours employees were born between 1980 and 2000. They are know as "the Millennials" or "Generation Y". When asked where they would like to work if they had their ideal job, they generally responded with Google in the first position, Apple in the second, and for themselves in the third position. 
Gen Y-ers are tech-dependent, enthusiastic, and they know how to use social media to leverage opportunities. They crave the Google-like environment of free food, toys, and open office floor plans. At the same time, they seek opportunities to be promoted.
Generation X, those born between 1960 and 1980, crave flexibility in their job schedules. This generation has a lot of responsibilities including paying a mortgage and supporting a family.
They want security. The lack of a stable economy has had a powerful affect on this group. They're looking for stability and are willing to take on more responsibility at work in order to build their careers and establish their credentials. This group is invested in themselves and their tech skills. They highly value companies that hear and act on their ideas. 
Baby Boomers, is the generation born between 1943 to 1960. Since these workers are getting close to retirement, their concerns involved health care and retirement perks. 
It's important to Boomers to feel that their experience is valued. Despite their proximity to
retirement, many of these employees are often the first to step up for continuing education or tech training.
Why Offer Customized Incentives?
If you don't make the proper investments in your talent, you run the risk of having poor morale and high turnover. The incentives you offer need to be customized to fit employees' needs and desires. It is imperative to have different tracks to accommodate the different people in your organization. 
AFC Management has created a continuing education/incentive program that will give your employees the motivation to stay with your company. For your FREE 15-minute consultation on setting up incentive programs that are customized for your employees, email Fran at Franb@afmsco.com or call 866.659.3400.