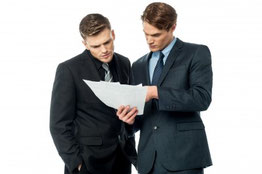 At this time of year you may be evaluating contracts to see if you want to extend or renew with the vendors you have in place.
Maybe you've become increasingly disgruntled with the quality of service provided by one of your current vendors. If you've decided you need a change, you should review the metrics you're using to evaluate vendors to see if all the standards for quality of services, allocation of resources, and responsiveness are outlined in detail.
The reality of it is, at this point in time, if there's a problem that your current vendor hasn't resolved, the metric that addresses this performance standard may be foremost in your mind. You may take that unhappy experience and use it to color your view of what your expectations for the next vendor should be.
It's best instead to look carefully at all the metrics for success you have in place to see if
one or more of your expectations wasn't detailed clearly enough or defined in a measurable way.
For example, you're unhappy with the fact that your current vendor sometimes takes as long as 48 hours to respond to phone calls and only answers your weekend emergency calls sporadically. You need to look at the details you provided in the contract to see if these expectations were communicated clearly from the beginning.
Communication is Key
No matter how well a particular vendor performs, how well you work with them and they work with you will depend largely on the level of communication your internal teams have with that vendor's contacts.
If you find that in general you're satisfied but feel that certain members of their teams don't handle specific tasks well, you should communicate that so the vendor has the opportunity to alter that weak link in their chain. It might just take some additional training for them to get those particular team members up to speed. If you feel that you've tried several times to resolve issues with this vendor, but your expectations are still not being met, it might be time to look elsewhere.

The first step in seeking a new vendor is to think of them as your strategic partner. The days of keeping your vendors at arm's length from your day-to-day operations are over.
Most vendors will become just as important if not more important than your employees. You'll depend on them for products and services that your employees can't provide. They may offer ways to scale your business that are much less expensive and faster than hiring more staff.
It all starts with a conversation.
Any quality vendor who wants to do business with you long term should be ready and willing to have that candid discussion with you for free. Talk with the new potential vendor about what you're looking for. Get their feedback on what's feasible, practical, and realistic for the budget you're willing to allocate.
Ultimately, you want your training and wellness programs to generate a positive ROI. By partnering with your vendor, you can ensure that you'll receive the lowest price technically acceptable (LPTA). When a vendor understands that you want to build a long-term relationship with them, it's easier for them to offer you the best prices for the best value.
After you hire your new vendor, keep the lines of communication open. Do a quick evaluation at least once a quarter. Talk about what's going well and what could be improved. By keeping in touch with each other, you can resolve issues quickly and everyone should know where they stand.
At AFC Management, we provide detailed reports demonstrating the impact and effectiveness of the training and wellness programs we manage. We discuss your needs for quality of service, allocation of resources, and responsiveness up front.
For your FREE 15-minute consultation on setting up wellness and leadership development programs for your employees, email Fran at Franb@afmsco.com or call 866.659.3400.