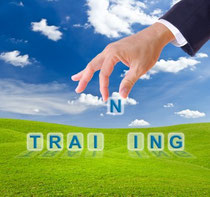 When you walk into your company today, imagine that it's the first time you've entered those doors. You're a new employee and it's your first day on the job. Your goal is to get into management within two years. 
Would you feel that you're embarking on a great new career journey at this position or would you think it's a place to work until you can transition to something better? 
Would you like the office environment, the benefits, and the staff? 
Would it be immediately apparent to you whether your new company values its employees or not? 
By offering workplace and leadership development, you demonstrate your support of your employees--your most valuable asset. If you have high turnover at your company, there's undoubtedly a reason or reasons. You need to analyze the factors that may be causing your top talent to leave. 
Studies show that the cost of losing an employee is over 38% of his or her annual wage. It costs less to retain a high-performing employee than it takes to replace him or her with someone new. In addition, there's no guarantee that your new employee will perform at the level of your previous employee. 
Cost isn't the only factor that's impacted by high turnover. The morale of a company decreases when key players leave, especially when it's clear that steps could have been taken to avoid that loss.
Why Is It Important for Your Company to Develop Its Talent?
There are four major reasons why it's important for your company to develop its talent. You will:
✓Show that you care about your employees.
✓Empower your employees to take on more responsibilities with confidence. 
✓Have the ability to promote from within.
✓Build a process to share knowledge that will benefit your entire organization.
If you invest in educating and training your employees, they'll understand that you care about them both personally and professionally. It shows your commitment to them and thereby solidifies their commitment to you. 
The knowledge that employees gain from training helps them make better on-the-job decisions. 
As you develop the working relationships with the talent in your company, you'll position employees to move up if they wish to, giving you the golden opportunity of being able to promote from within. As you share knowledge and talent company wide, employees become cross-trained in the event that an employee moves into another role or is temporarily unable to perform his or her duties.
How Should Your Company Develop Its Talent?
There are four ways to assess what talent you need and to organize a plan to develop that talent. You'll need to:
✓Determine the existing business needs. 
✓Assess the current capabilities of your staff and where there are gaps.
✓Track progress and provide feedback.
✓Revise the plan as situations or needs change.
Talk to your executive team and managers. Ask them which members of their teams have their work under control and are seeking new challenges. Find out which areas of expertise are missing and why those areas are valuable to the organization. Create a plan for training and education with input from your managers and employees. 
What Ways Can Your Company Develop Its Talent?
There are four key methods you can use to develop your talent:
✓Formal Training
✓On-the-Job Training
✓Mentoring
✓Coaching
You can offer either internal or external training and educational programs for your employees. You can also offer on-the-job training. Employees who want to learn can shadow employees who have mastery. In this way, apprentices start applying their new skills right away. 
You can offer a mentorship program to help newer employees benefit from employees who are more knowledgeable. There should be rewards for both the mentor and the person being mentored so that there's a pre-established commitment to the process. 
Coaching provides a way to give guidance to employees so that they can try something on their own and get quick feedback on their progress. 
It's 2014 and there's no better time to offer growth and learning opportunities for your employees. Are you ready to start? 
LIMITED TIME OFFER: If you schedule the date of your Breakout Leadership workshop within the next 30 days you'll receive a 20% discount. Call us today and use promotional code NL114 to receive your discount and get on the calendar. 
Breakout Leadership: 7 Key Strategies to Improve Emotional Intelligence (EI)

This day long, interactive workshop is designed for both tenured and emerging leaders. Learn how to:
✓Develop a commanding presence and build rapport
✓Become adaptable and flexible in any situation
✓Establish common ground and self-regulation among teams
✓Handle difficult conversations with ease and empathy
✓Enhance listening skills to mend and build relationships
During this workshop for 30 of your associates, AFC Management will help you find the areas where your employees need support and assist you in creating an action plan for workplace and leadership development that's tailored specifically for your company.
No need to travel either! We'll pack up our materials, handouts, flip charts, and practice workbooks and come to you. Email Fran Dean-Bishop at franb@afmsco.com or call 866.659.3400.
Image courtesy of tungphoto / FreeDigitalPhotos.net