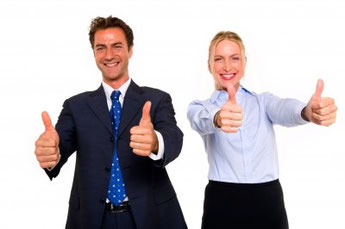 Do you want your employees to enjoy work and be the most productive they can be? By supporting your employees' happiness and well-being, you'll keep them from thinking that the "grass is greener" elsewhere. You'll improve retention, minimize absenteeism and reduce turnover. 
Here are some morale boosting strategies that you can implement for your employees:
✓Offer Flexible Scheduling
✓Improve the Office Environment
✓Support Health and Fitness
✓Recognize Their Achievements
✓Provide Growth and Learning Opportunities
Flexible Scheduling
Think about offering a day or two where your employees can work remotely. If it's vital for
employees to be onsite, offer them some flexibility in the hours they can work. Perhaps you might allow employees to work their daily hours anytime between 7 am to 7 pm with the
requirement that meetings only take place between 11 am to 2 pm. 
Employees who have longer commutes during rush hour will appreciate this flexibility and so will new parents who have to arrange for daycare for their children. Consider letting employees work an extra hour for four days so they can take 1/2 days off on Friday afternoons. Offering employees a fitness break during the day is helpful as well. The idea is to support other areas of their life and give them greater control over their daily schedule.
Improved Office Environment
Examine your office environment and think about ways you can improve the natural light. Simple adjustments such as bringing plants indoors can help boost mood and productivity as well as create a more comfortable feel in the office. 
Review the color scheme to boost your employees' spirits. For example, red gives employees energy and warm yellow helps spur innovation and memory. 
Consider ways you can reconfigure the workspace so that there are open areas where cross-functional teams can work and socialize, as well as more private areas where employees can concentrate on detailed projects. 
Health and Fitness
Make sure the temperature in the building is comfortably warm in the winter and cool in the
summer. Offer healthy foods for your employees to select for lunch and snacks. Encourage them to stretch for a few minutes every hour and go for walks during breaks. 
Consider offering a fun fitness challenge, exercise classes, or yoga. Give your employees the
opportunity to create their own performance development plan (PDP) so they can track their progress with weight loss or exercise goals via tablet or smartphone apps. 
Reward Achievements
Don't forget to reward your employees when they achieve their benchmarks! Just saying "thank you" in a heartfelt way can give your employees a boost. Give them a day a week to dress casually or offer a day or two of paid lunch every week. 
Offer them extra breaks, comp time or longer lunchtimes. Present them with a signed framed photo of the team with everyone's signature, a book based on their interests, or movie tickets. Let them bring their children or pets to work for a day. Show them you appreciate their efforts and have noticed their progress.
Growth and Learning Opportunities
Offer a career mentorship program or tuition reimbursement for courses that will enhance their careers. When new systems are launched or new software is required, make sure to offer onsite training so that employees can get up to speed quickly. Keep a knowledge database so that employees know their colleagues' backgrounds and strengths. Encourage them to depend on each other and create mastermind teams within the organization.
Most important of all, don't forget to listen to your employees and get feedback from them on the changes you can make that will enhance their work life.
It's 2014 and there's no better time to offer growth and learning opportunities for your employees. Are you ready to start? 
** LIMITED TIME OFFER** If you schedule the date of your Breakout Leadership workshop within the next 30 days you'll receive a 20% discount. Call us today and use promotional code NL114 to receive your discount and get on the calendar. 
Breakout Leadership: 7 Key Strategies to Improve Emotional Intelligence (EI)
This day long, interactive workshop is designed for both tenured and emerging leaders. 
Learn how to:
✓Develop a commanding presence and build rapport
✓Become adaptable and flexible in any situation
✓Establish common ground and self regulation among teams
✓Handle difficult conversations with ease and empathy
✓Enhance listening skills to mend and build relationships
During this workshop for 30 of your associates, AFC Management will help you find the areas where your employees need support and assist you in creating an action plan for workplace and leadership development that's tailored specifically for your company. 
No need to travel either! We'll pack up our materials, handouts, flip charts, and practice workbooks and come to you. Email Fran Dean-Bishop at franb@afmsco.com or call 866.659.3400.
Image courtesy of Ambro / FreeDigitalPhotos.net