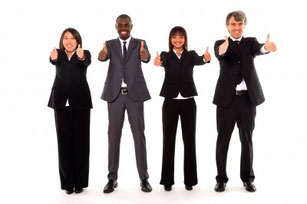 The term "Emotional Intelligence" (EI) was popularized by American psychologist, Daniel Goleman. He categorizes an individual with high EI, sometimes called EQ, as having five major personality components:

1. Self-awareness

2. Self-regulation

3. Motivation

4. Empathy

5. Social Skills

Leaders who have a high degree of emotional intelligence understand and self regulate their own emotions and are also sensitive to the feelings of others.

Why Do Leaders Need to Improve Their Emotional Intelligence?

All of us have been in situations where we either felt unmotivated or inspired by a particular leader's management style.

Working with a leader who knows how to motivate and encourage us enhances our productivity. A strong leader makes us feel that we're a vital component of the group effort.

On the other hand, an individual in a leadership position can do a tremendous amount of damage if he or she patronizes or criticizes others in a public forum. An angry or out-of-control leader can also fray nerves and hamper employees' abilities to problem solve when crises arise.

If you play a leadership role in your organization, you can grow as a leader by examining these five categories of EQ and working at ways to improve each one.

✓   Self-aware leaders know their own strengths and weaknesses. They have a commanding presence but it's coupled with a dose of humility.

✓   Leaders who keep a rein on their own emotions don't attack others verbally. A calm demeanor in the face of difficult situations is the hallmark of a leader who knows how to self-regulate.

✓   A great leader is highly self-motivated and also knows how to motivate others to do their best.

✓   Effective leaders are masterful listeners. They can read others not only by what they say, but also by their body language. They can handle difficult conversations with ease because they truly care about others and empathize with their problems.

✓   Leaders with exemplary social skills have the ability to manage change and resolve conflicts. They know how to give praise when it's due and how to give feedback in a way that doesn't come across as criticism.

It's 2014 and there's no better time to commit to the workforce and leadership goals you have for your company. Are you ready to start?

** LIMITED TIME OFFER **  If you schedule the date of your Breakout Leadership workshop within the next 30 days you'll receive a 20% discount. Call us today and use promotional code NL114 to receive your discount and book your workshop.

Breakout Leadership: 7 Key Strategies to Improve Emotional Intelligence (EI)

This day long, interactive workshop is designed for both tenured and emerging leaders.

Learn how to:

✓        Develop a commanding presence and build rapport

✓        Become adaptable and flexible in any situation

✓        Establish common ground and self regulation among teams

✓        Handle difficult conversations with ease and empathy

✓        Enhance listening skills to mend and build relationships

During this workshop for 30 of your associates, AFC Management will help you find the areas where your employees need support and assist you in creating an action plan for workplace and leadership development that's tailored specifically for your company.

No need to travel either! We'll pack up our materials, handouts, flip charts, and practice workbooks and come to you. Email Fran Dean-Bishop at franb@afmsco.com or call 866.659.3400 to book your workshop today!
Image courtesy of Ambro / FreeDigitalPhotos.net